Education is reciprocal and we are the communicators of this reciprocity. This concern for others is what makes us 'human' and the moment we deviate from this 'humane side', we are inhuman. Such a simple thing is not understood unless it is not being communicated to us by our belief systems, teachers, friends and Self!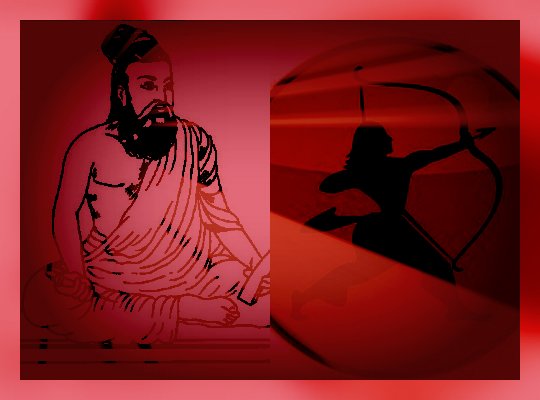 Eklavya- a character in Mahabharta, the most celebrated Epic of the world- is known to those who have read or watched Mahabharta. He is being portrayed as a disciple who is dedicated to the Guru and his utmost allegiance to Dronacharya (The Best Teacher in our belief) is unparalleled. We may talk of Arjun as most skilled- but we remember Eklavya as the Most talented and dedicated.
Eklavya, shunned by Dronacharya because he was a Nishad (a lower section of the community) is so determined to learn from Drona, that he makes an idol, a replica of Dronacharya and continues his practices in front of the 'Self Created Guru'.
What Next... He demonstrated the Best in him at a certain moment, and Dronacharya bounded by his job to the Pandavas and Kauravas, asked Eklavya to gift him his thumb as 'Guru Dakshina', the archery skills in fact, and Eklavya did this the very next moment. One wonders on this following and dedication and thinks of the intention of Drona and the heart of Eklavya!
He Proved to be a True Disciple who Learned-because he wanted to!
EklavyaParv is the acknowledgement we have been giving to #EduSoMedia in this age by trying to inculcate Learning by EdTech among students as well as teachers.
Blended Classrooms, Collaborative Learning and Inclusive Education mean a lot to us.
We need to become Eklavya to Learn through Self!
Learn by Doing!
Eklavya has been alive in all of us! We all, at most of the times, learn by observation, dedication, determination and we do respect the Guru we take as our Guide.
I Celebrate Eklavya- The Learner and dedicate this EklavyaParv to Him!
Let Us keep the belief that "You Create Yourself."
BLOG COMMENTS POWERED BY DISQUS